OUR HEART BASED AND HOLISTIC APPROACH TO HEALING INCLUDES COUNSELING, ENERGY WORK, ART, WORKSHOPS, CEREMONY AND SACRED RITUAL. WE ARE HIGHLY TRAINED IN A VARIETY OF PROCESSES INCLUDING TRADITIONAL TALK THERAPY, ART PSYCHOTHERAPY, GUIDED VISUALIZATION, INNER CHILD WORK, ENERGY WORK, YOGA AND SHAMANIC PRACTICES.
WE ARE DEEPLY COMMITTED TO YOUR EMPOWERMENT AND TO THE EVOLUTION OF HUMAN CONSCIOUSNESS AND THE PLANET!
---
Individual Therapy
Our therapeutic relationship is based upon confidentiality, mutual trust, respect, honesty, and compassion. Treatment may last for a few sessions and it may last longer, depending upon your goals, intentions, and progress. We help you develop awareness, teach you new tools and empower you to live more contented fulfilled lives.
In individual counseling you meet with us for sixty minutes. The first session/s includes an assessment of your therapy intentions, presenting issues, and an inventory of history, old patterns, strengths and tools. Based upon all of this we develop a treatment plan with you to meet your goals.
---
Child & Adolescent Therapy
Jonathan's treatment of young people is based on building strong loving relationships between himself and your children. The work often focuses upon increasing self-confidence and self-esteem, and the creation of healthy coping skills, which leads to making healthy choices in life. His extensive background in neuropsychology gives him an understanding of learning and school issues if they are present.
Children and adolescents have special needs in therapy and frequently require more creative activity in sessions to achieve success. The adult one-to-one model of an hour of verbal interaction is not as effective as interspersing the session with therapeutic play. During such creative activity children and adolescents communicate their needs and feelings more directly and deeply.
Neither children nor parents are born with manuals! Parents at times beat themselves up for not being perfect. Children and adolescents often want to connect, but may act out or push parents away because they don't know how to get their needs met effectively. Jonathan has over 35 years of experience working with children and adolescents who are experiencing attachment struggles, issues related to trauma, anxiety, depression, as well as grief and loss related to divorce and other family transitions.
---
Family Counseling
Sometimes in child/adolescent therapy it is important to have family sessions to foster understanding between parents and children. During these sessions new healthy strategies and structures are negotiated to enhance overall family function.
---
Couples Therapy Co-Lead by Jonathan and Shari
Experiencing challenge within relationship is normal. Damage to relationship occurs when patterns of conflict continue unexamined and unresolved over time. Hurt feelings become magnified, unhealthy energy gets entrenched, defensive walls of protection are built. All of this leads to a reduction of intimacy and loss of meaningful loving connection.
In couples therapy we work together to identify and explore the sources of the walls and clear the energy that keeps couples locked into these destructive dances. Couples gain compassionate insight into their role and their partner's role in the old pattern. Partners are taught how to take responsibility and how to make the necessary shifts. Original agreements made between partners are unearthed and updated to serve current needs.
---
2 Hr. Couples Intensives Co-Led By Jonathan and Shari
This service is a 2 hr. in-depth exploration of your dynamics as a couple. We implement experiential, energetic, and traditional modalities including psycho-education, art psychotherapy, guided visualization, inner child work, shamanic journeying, and psychodrama.
This powerful experience assists couples in crisis as well as those looking to deepen or enhance their existing sacred relationship. Couples may choose to do a one time intervention, to come for "tune-ups", or to come on an ongoing basis to build skills and create new possibilities.
---
Energy Psychology
Energy psychology refers to an array of methodologies that are clinically observed to assist, often rapidly, with a wide range of psychological, physical and emotional conditions. These therapies work on what Albert Einstein called the "subtle energy" systems of the body. They facilitate shifts in unproductive outdated beliefs/cognitions, emotional and behavioral patterns. The energy processes we use are non-invasive and support the body's ability to heal. We work with the luminous energy field (the "invisible" electromagnetic field surrounding the physical body) and the chakra system. These processes transform the dense physical, emotional and mental imprints associated with trauma, into nourishing life energy.
Personally and collectively humanity is Awakening and we are now in a process of deep transmutation and transfiguration. This is often called the Ascension Process, meaning a return to our Sacred Center, our Divine nature. To assist you in this process we use energy/shamanic work to transmute your outdated and distorted physical, mental, emotional and spiritual patterns. These sessions create healing and restoration at the deepest energetic level or blueprint of being.
---
Ceremonies and Rituals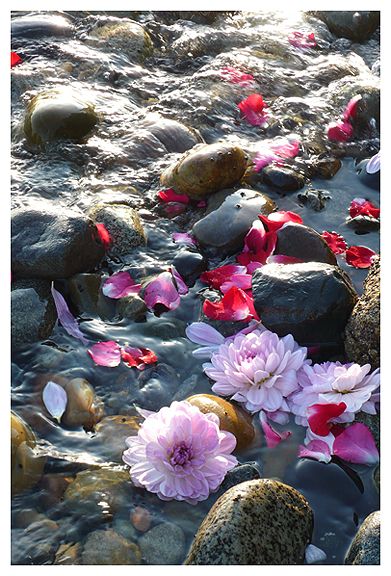 We realize the necessity of honoring and celebrating key transitions in the human life cycle with our beloved Earth and all our relations. We joyfully create ceremonies with individuals, couples, families and groups, that often include interaction with nature and the making of meaningful symbols and objects of power. In such collaborative expression there is a heartfelt remembrance of our interconnection with the Elements and Nature Spirits, and a reclaiming of our joyful role as co-creators with Spirit.
Examples of Sacred Ceremonies:
Weddings, Renewal of Sacred Vows
Conscious Divorce
Initiatory Experiences/Rites of Passage for Teens
Blessing of the Water
Despachos (Ancient Fire Ceremony of Release/Renewal)
Solstice/Equinox Celebrations
Conscious Dying
Consecration of Space
---
Sacred Art Tools